Once in a while, we are invited to feature our work in books and magazines as well as design interviews. Recently we were featured on "The IMGSRC 100" (Japan), "Graphic Design USA" (USA), and "WebWorks: Typography" (USA).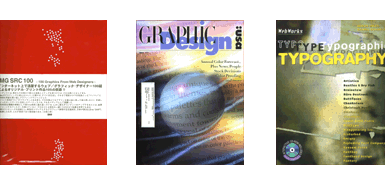 O1: IMGSRC 100
From Japan. A special feature from Born Magazine. (April 1998)
This is a book showcasing original works from 100 creators around the world. All these works were discoverd on the web, all exchange of information was done electronicly. None of us have met each other, we have never spoken and yet 100 creators have come "TOGETHER" in the form of IMG SRC 100.


O2: GraphicDesign: USA
Graphic Design: USA is a monthly business-to-business magazine for professional graphic designers and related creative and production professionals. It reaches the design field's most targeted business-to-business circulation at design firms, corporations, ad agencies, and publishers.


O3: WebWorks: Typography
Publisher: Rockport Publishers
ISBN: 1564965198; Bk&Cd-Rom edition (March 1999)
Besides creating outrageous new digital fonts, these typographer are developing new graphic text treatments that don't waste visitors' time with slow downloads for their online catalogs and e-zines. Featuring some of the most imaginative stars on the Web and in the expanding world of type design, experts share their tricks and techniques in this essential sourcebook for creating dazzling typefaces and Websites.


Back to Overview : View Our Works